Unsuccessful asylum seekers and migrants without a residence permit in Slovakia, who cannot stay in the Slovak Republic, do not have financial means and wish to return to their country of origin, will find information on assistance on the new IOM Slovakia website www.avr.iom.sk.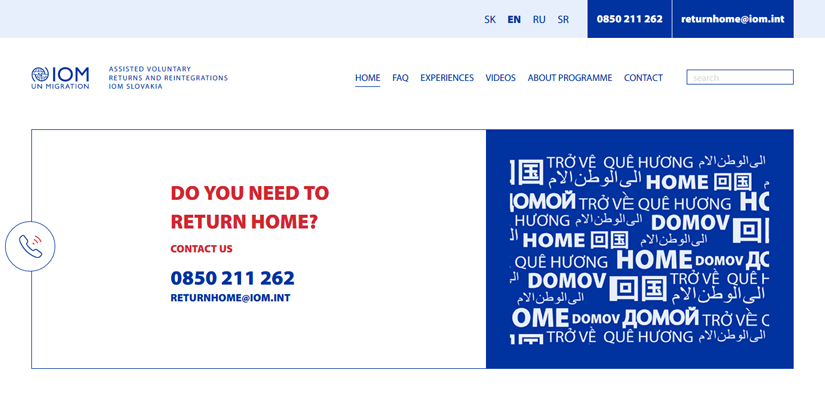 Assistance to migrants with return and after return home from Slovakia is provided by IOM Slovakia within the program of Assisted Voluntary Returns and Reintegrations (AVRR). All IOM AVRR services are provided free of charge.
The website provides following information in Slovak, English, Russian and Serbian:
who can apply for the program,
what services IOM provides to migrants interested in return,
practical information, e.g. how the return takes place step-by-step, how long does it take to return or what to do if you do not have a valid travel document,
answers to frequently asked questions about return and IOM services,
interesting stories of migrants from different countries who returned home with IOM assistance.
In addition to the website, you can get information on the assistance with return home by visiting IOM in person in IOM offices at Grösslingová 35 in Bratislava or at Poštová 1 in Košice or by contacting us by helpline 0850 211 262, e-mail address This email address is being protected from spambots. You need JavaScript enabled to view it. or via Facebook, WhatsApp and Viber.
Information on the website may be useful also for staff of the Foreign police, Migration office, non-governmental organizations and others who come into contact with migrants and need to get informatiom on IOM assistance with return home.
Please share the website www.avr.iom.sk among those who might need help with returning home from Slovakia.

Thank you – IOM Slovakia
Voluntary Return and Reintegration in Country of Origin (Individual Project).This project is co-funded by the European Union from the Asylum, Migration and Integration Fund (AMIF). Home Affairs Funds.