On 4 and 5 December 2018 at the Kino Lumière in Bratislava, the festival featured three remarkable films about the reasons for migration to Europe, the radical intervention of the Syrian conflict into people's lives, and the challenges faced by refugees in an unknown environment in new countries.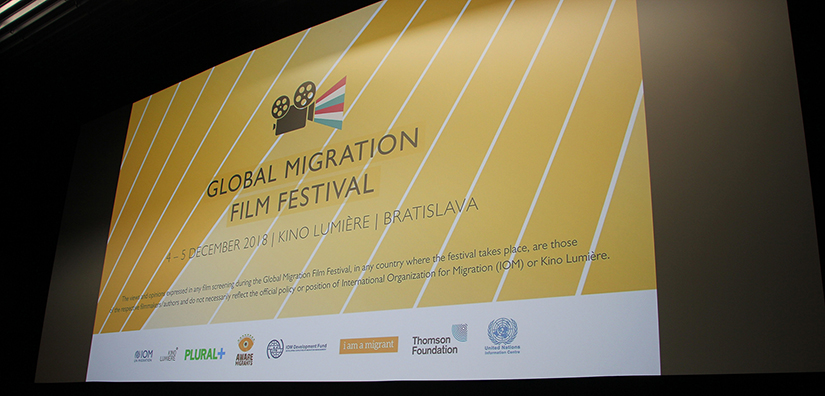 International Organization for Migration (IOM) has been organizing the Global Migration Film Festival since 2016. The festival's format is unique – IOM Headquarters creates an official film selection and IOM offices together with their partners select films for local festivals that are shown in their countries.
Festival films in Slovakia:
Bushfallers – A Journey of Chasing Dreams
More information about the film.
Abu Adnan: Adnan's Father
More information about the film.
Invisibles
More information about the film.
Looking back to the 2018 festival around the world:
The 2018 edition of the global festival began on 28 November and culminated on 18 December on International Migrants Day. More than 30 000 people attended over 500 screenings of one of the 42 films in the official festival selection. Screenings took place in 104 countries and 160 cities.
For more information you can watch a video here: https://vimeo.com/314511021/14928a7882
About the festival:
The Global Migration Film Festival features exceptional films about migration which is one of the greatest phenomena of our times. These films will take you into the often unrecognized reality of migration and enable you looking for answers to questions such as: Why do people flee their homes? What challenges do they face during their difficult journey? What are their lives as strangers in an unfamiliar environment far away from their homes and how do locals perceive them? And how does a society change and divide in countries affected by migration?
Every year, the festival is organized by the International Organization for Migration (IOM) in over 100 countries around the world.
More information available on https://www.iom.int/global-migration-film-festival.