Since the beginning of the war in Ukraine, more than 1,150 people from Ukraine have taken the opportunity to learn the Slovak language at courses organised by the International Organization for Migration (IOM) in Slovakia.
Out of them, 482 participants have taken in-person courses and 675 have learnt Slovak online. Altogether, IOM Slovakia has opened 50 courses for people from Ukraine.
Learning Slovak language is an important element in the integration process of Ukrainians. It increases their chances to find an adequate job corresponding to their previous work experience and especially, it helps them better cope with everyday situations during the first weeks and months of their stay in Slovakia.
Currently, 30 courses are still ongoing, and they are open to foreigners including Ukrainian citizens.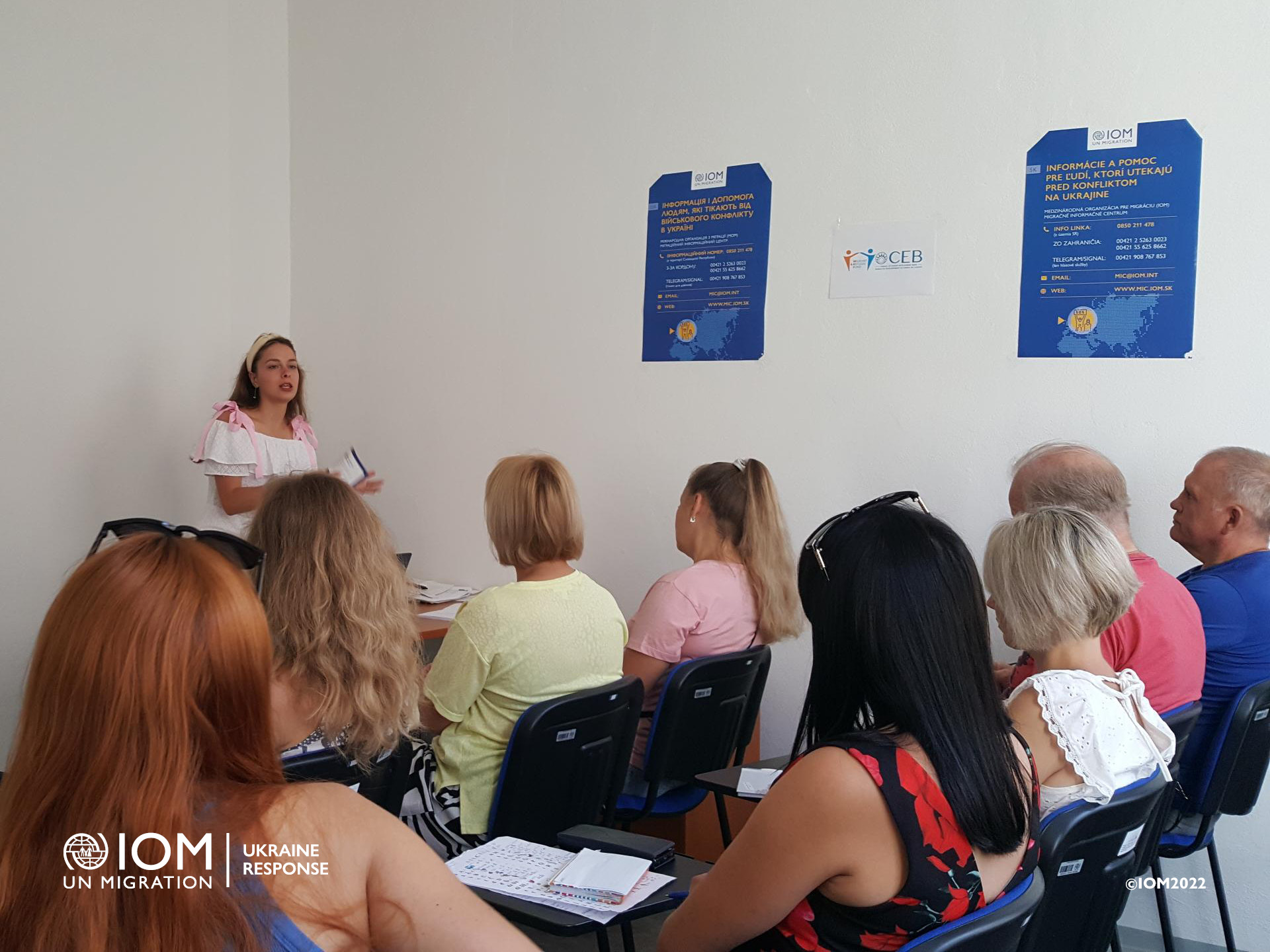 IOM course of Slovak language for people from Ukraine in Kosice. Photo © International Organization for Migration (IOM) 2022.
More than 650 temporary refuge holders from Ukraine have been attending 20 of these courses. There are currently 13 in-person courses, 6 of them in the Bottova Assistance Centre in Bratislava, 2 courses are organized for people at the Gabcikovo Accommodation Facility, 2 courses take place in Presov and 3 courses in Kosice.
People from Ukraine are also learning Slovak in 7 online courses.
---
PLEASE NOTE: Registration for ongoing courses is closed and all the groups in the current course cycle are currently fully booked. The next cycle of Slovak language courses is scheduled for January 2023. The date and time of registration for a new cycle will be announced in December 2022 on the IOM Migration Information Centre (MIC) website: www.mic.iom.sk.
---
This IOM activity has been generously funded by:
Migration Information Centre to Support Integration of Migrants in Slovakia (phase IX, Individual Project). The project is co-funded by the European Union from the Asylum, Migration and Integration Fund (AMIF). Home Affairs Funds.
Support for Ukraine: IOM Slovakia Response

The U.S. Department of State Bureau of Population, Refugees, and Migration.